Oubao laboratory was accredited by Intertek "Satellite Project" laboratory
Views: 0 Author: Site Editor Publish Time: 2016-12-01 Origin: Site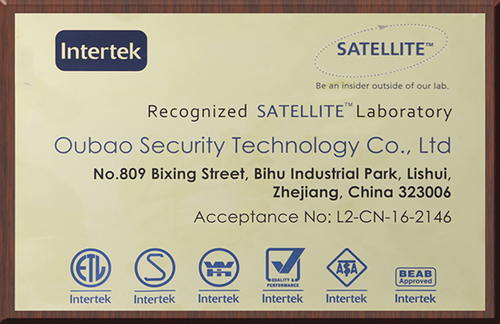 Recently, Oubao Laboratory was approved to join the Intertek Group Satellite Program. Oubao Laboratory became the first Intertek satellite program laboratory in China that passed the ANSI/BHMA A156.4 standard test. This is another honor obtained by Oubao laboratory after CNAS accreditation, UL witness test and ANSI witness test, and it is also another milestone of Oubao laboratory in the field of door closer testing.
The laboratory of Oubao Security Technology Co., Ltd., established in 1988, is mainly responsible for the inspection of door closers. In 2012, it became the first laboratory accredited by CNAS in the same industry in China. At present, the laboratory has developed into a multi-functional comprehensive quality inspection department.
The Intertek satellite program recognized the qualifications, equipment, personnel and other aspects of the "ANSI/BHMA A156.4-2013, AMERICAN NATIONAL STANDARD FOR DOOR CONTROLS-CLOSERS" standard test for Oubao Laboratory. In the future, Oubao Laboratory will continue to follow the requirements of CNAS and Intertek's satellite program, and make continuous efforts in new product testing and analysis, product routine testing, standard revision, and customer service.
It is understood that the "Satellite Program" is a revolutionary data recognition program launched by Intertek that seamlessly integrates speed, flexibility, cost-effectiveness and certification marks. Through this program, Intertek will issue relevant test reports for customers based on the internal laboratory test data of high-quality customers, which can help manufacturers better control the product testing and certification process and speed up the certification process.
As an intelligent door control R&D and manufacturing enterprise focusing on the door control field for more than 30 years, Oubao will control its product certification projects, delivery speed, time to market and flexibility through the Intertek satellite program in the future. The close cooperation between Oubao and Intertek will enable Oubao to introduce products to the market faster and more effectively to meet the increasing demands of the market.