The 4th Oubao Cohesion Cup tug-of-war competition
Views: 0 Author: Site Editor Publish Time: 2021-06-29 Origin: Site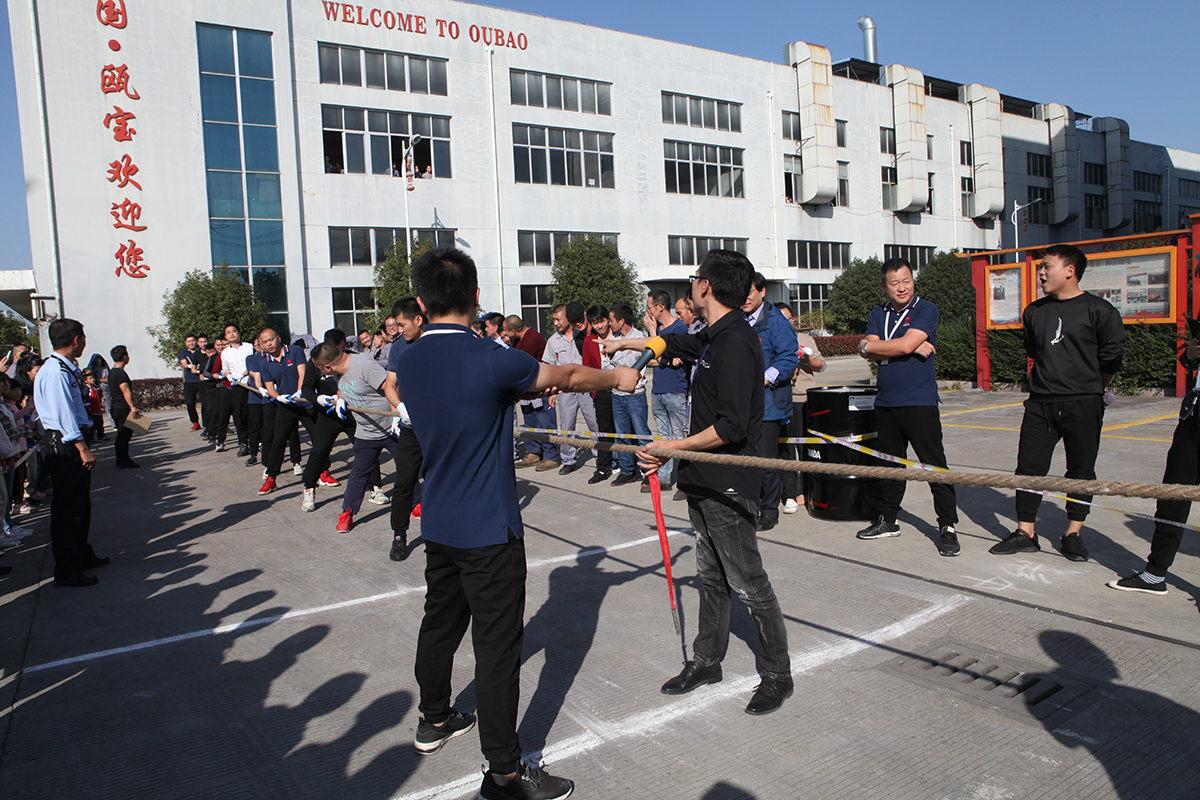 For special employees' amateur cultural life, improve their quality, care for their work, show their demeanor, and further enhance corporate cohesion. On the afternoon of November 15th, Oubao Security Technology Co., Ltd. held the 4th Oubao Cohesion Cup tug-of-war competition in the factory's Great Passage.
The tug-of-war competition consists of 8 teams from the common business department, the technical support department, the administration department and the production workshops. The all teams are divided into two groups for round-robin competitions. The strongest two teams are selected in the group to advance to the finals and compete for the title.
The game has not officially begun, the players have been in good spirits, enthusiasm, doing the pre-match warm-up, and experienced veterans exchange tug-of-war experience with other players, instruct them to stand, hold ropes, clap hands, exert force, etc., In order to enhance the tacit understanding between the players, improve the team's ability to fight.
With a whistle, a fierce tug-of-war officially began.The team members clenched the long rope, feet the ground, each make a full body strength, full of strength to pull back, hands and faces are red, and even some of the body has been lying on the ground, foot shoes also because of force changed shape, but still gritted their teeth, not let go, launched a double battle of endurance and perseverance.
After a day of competition, the final comprehensive one department, technical support department, administrative department, research and development business department 4 teams successfully advanced to the final. Compared with qualifying, today's atmosphere is more intense, especially the comprehensive one-division team and administrative team two teams of the championship competition, in the strength of the two teams, a few back-and-forth stalemate and tug-of-war, the whole game again to the climax. The players in the field work together, go all out, off-site cheerleaders are also enthusiastic, shouting, cheering, cheering, cheering, clapping, the whole arena presents a hot scene.
After two days of fierce competition, several rounds of fighting, the 4th Oubao Cohesion Cup tug-of-war in the whistle, the final champion of the crown was won by the administrative team, integrated one department team and technical support team won the runner-up and the runner-up respectively.
As the company's traditional cultural activities, the tug-of-war competition shows the collective spirit of unity and cooperation, hard work and enterprising, positive, healthy and optimistic spirit. Through this competition not only enrich the style of life of employees, create a relaxed working atmosphere, further cultivate the spirit of teamwork of employees, enhance the cohesion and dedication of employees, but also for the future work in an orderly manner to provide strength for the company's faster and better development has laid a solid foundation.